LICENSED DIGITAL DISTRIBUTION
Licensed Distribution to Sell Your Music Worldwide!

CONFIDENTIAL RECORDS works with DIY Labels, Independent Record Labels, Management Companies and Bands / Artists to sell their music Worldwide through major online stores such as iTunes / Apple Music, Spotify, Amazon etc.

We have a maximum number of FORTY Bands / Acts on our roster at any time (although each Band / Act may have multiple releases) and can distribute your SINGLE, EP (MAXI-SINGLE), ALBUM, VIDEO or RINGTONE.
CURRENT ROSTER TOTAL
40 BANDS / ACTS : MAX=40
(Reviewed Mid-Monthly)
NEW CLIENTS : Submit music any time - if our roster is at maximum, your submission will be scheduled for release as soon as possible.
EXISTING CLIENTS : May have as many releases as they wish and can submit another at any time.
We offer a 50% discount on additional releases.
RE-RELEASES : If you have previously have had a release DELETED for whatever reason, we may be able to arrange a re-release for you, at our discretion.

KEY BENEFITS
Worldwide Distribution fees from just GBP£15.00
Choice of 1, 2 or 5 year release campaigns
Released on your own Label / Imprint
Choice of sales outlets / retail prices
50% discount on additional releases
Monthly Royalty Payments
Sales returns of 100%
Publishing returns of 80%

Synchronisational Promotion included
BBC Introducing Submission
MusicBrainz / ReverbNation Registration
YouTube Content ID Registration
Official Chart Registration Options
PPL / SoundExchange Registration
Free BARCODE / ISRC Numbers
Pre-Order Option
DISTRIBUTION OUTLETS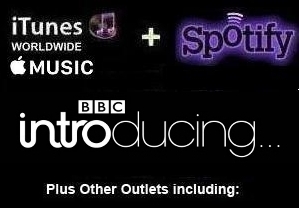 DIGITAL DISTRIBUTION OPTIONS
SINGLES
EPS
ALBUMS
VIDEOS
RINGTONES
DO YOU HAVE AN EXISTING RELEASE?
We can offer a great discount of 50% on initial audio distribution fees for any Band / Act with a current release through Confidential Records.
Ideal for getting all of your back-catalogue online!
---
DISTRIBUTION NOTES
All submissions accepted at our discretion
We have a maximum roster of 40 Bands / Acts at any time (although each Band / Act may have multiple releases)
All songs / titles must be published through Maori Music Publishing
Confidential Records (UK) Ltd will act as Exclusive Licencee for your recordings
and register them with PPL, Music Reports and SoundExchange etc., on your behalf
All associated videos will be covered by YouTube Content ID
Broadcasts through the BBC Introducing Network are at the discretion of the BBC
Most releases take just 10-14 days to go live
If you require a specific release date we strongly recommend that you submit your music for distribution one month prior
Added to new outlets when they become available free of charge
All releases will be reviewed periodically and appropriate optional renewal terms will be offered
FAQS
PROMOTION
---